Have you thought you could revolutionize your business by digitizing and automating the processes in your business?
During the Business Focus Timișoara 2019 event, a management and strategy workshop was held in which Dan Turcitu, Managing Partner Ascent Soft, as well as other speakers presented ideas on how you can help your business grow with the help of digitization and automation of business processes.
Ascent Soft offers the software solution, Ascent ERP, which improves the performance of companies – regardless of domain, size or age. With a wide range of applications and the customization of each system implemented, Ascent ERP responds to the needs of all users involved and supports long-term development.
Business Focus Timișoara 2019 is an event with national notoriety, which offers various services and promotional possibilities that help companies both by strengthening the brand and by generating opportunities through workshops and exhibition stands, to all entrepreneurs but also employees from different companies.
The workshop brought together 6 speakers with extensive experience in the field, who each discussed the development of their company following digitization, but also about the benefits that can be brought to your company:
Dan Turcitu is Managing Partner of Ascent Soft.
Demis Ghindeanu is the CEO and Co-founder of Pony Car Sharing.
Mihai Cepoiu is an engineer with 17 years of experience in "Supply Chain Management".
Cosmin Vîlcu is an expert in IT security solutions, and currently holds the position of Regional Senior Sales Manager for Eastern Europe & CIS at SonicWall.
Flavius ​​Mihăilă is the Manager of the Industrial Engineering group within the Continental Automotive Romania Company, the Electronic Components Factory (CEP – Central Electronic Plant) in Timișoara.
Marian Ursei is General Manager of Turck Automation Romania, one of the world leaders in the field of industrial automation.
Taking care of the implementation of systems that significantly contribute to the development of the company through its digitalization, Ascent Soft, has highlighted several ideas including: what steps should be taken for this process, what profits the company brings, but also many others that will be discussed in the following sections.
What is digitization?
Digitalization is the use of digital technologies to change the business model. In a company it can be quite difficult to keep at a fast and efficient pace all the activities in the traditional way, i.e. through documents and physical activities. Traditional methods waste a lot of time, human mistakes take place, and departments do not communicate effectively with each other.
In the image below you can see what a structured digitization flow of business processes looks like.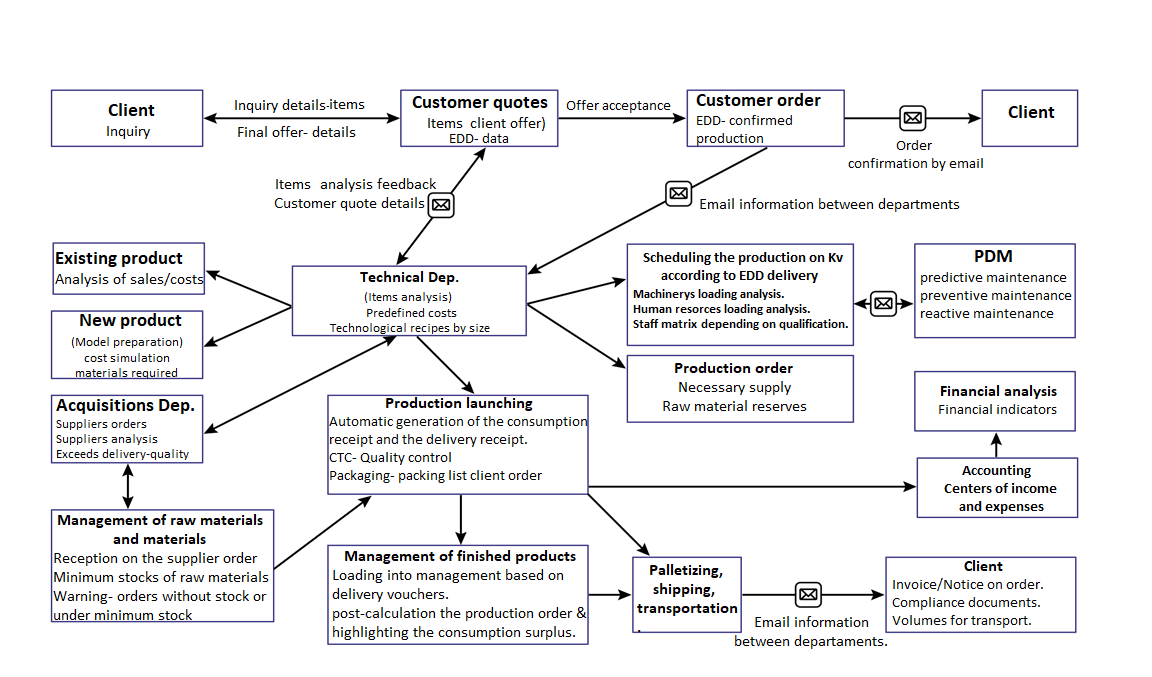 How can you transform your business?
After we have developed the idea of ​​digitizing the processes but as it looks like in a structured scheme, it is important to follow certain steps for a successful implementation:
Awareness of goals correctly – understand what your business is going for – Don't forget: digitization can create new target markets, new differentiators or new products.
Identifies and involves stakeholders
Review your processes– a slow or outdated process can obstruct any innovation strategy – digitization means thinking out of the box and applying new technologies in an innovative way.
Evaluate people and interactions – what is the demographic structure of your customers, suppliers and employees? – what are these demographic changes, and how will each category of partners transform in the next 10, 15 – 20 years? – how will the interactions change over time?
Evaluate your digital fingerprint – do the systems you rely on today push you forward or keep you in place? – will the technologies you rely on today serve your goals exactly as today and tomorrow?
What benefits does the company have from digitization?
Work more efficiently – due to the digitalization the company evolves and the activities are more accurate, simple and occur at a much higher speed.
Innovation is easier to achieve and nowadays it is important to always come up with something new.
Sharing knowledge with specialists.
Active learning (on the job).
Cost reduction.
Both customers and employees are more satisfied because communication is improved, work becomes easier, and customers receive their product or service faster.
Helps you scale your business – this means to grow your business using as few resources as possible.
It allows you to analyze and control more easily the activities.
You will gain an important competitive advantage.
Characteristics and functionalities of the "Digital Employee"
In order to be able to better observe the benefits of the digitized and automated processes, below is an example of how a "digital employee" works in relation to a normal employee.
Works 24/7 under almost any conditions.
Does not issue salary claims or any kind of free days.
Archive the documents according to the requirements, and during the process no one is lost.
It does not require specialized training, so you save time and money and you can focus on future opportunities for your business.
It is flexible. You can access information from anywhere and from any device.
Performs tasks when required and does not delay action (procrastination).
Can be customized according to the needs of the company.
When upgraded to learning or active capacity, through AI, he advances to the position of "commercial director" and gets to decide on certain activities alone without requiring additional financial benefits and promotes the business through his own contribution.
Manages the documents in such a way that the activity is continuous, correct and not disturbed by other decision makers.
Implements in the server side automatic processes that make up the sending of a document from a desktop application.
Do you want to digitize your business and do not know where to start? Try a free demo of our Ascent ERP system and start transforming your business.